Mobile Voting & SMS Conference Texting
Software for Mobile Participation & Conference Text Messaging
Participant Messaging:
With [asQ-us] mobile voting software, meeting participants use their mobile phone's text messaging service (SMS) to submit detailed questions or comments to a centrally-monitored computer. The immediate feedback can be:
Included in live Q & A sessions
Incorporated into Audience Response System
Organized & displayed to a moderator/audience
Answered individually or as a group
Accumulated as open-ended survey feedback
Used as on-demand requests for information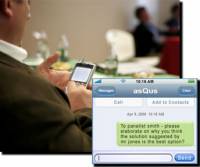 Broadcast Messaging:
[asQ-us] works both ways. Just as participants have access to meeting organizers, meeting organizers can relay information back to the participants as well. Conference texting is great, because short messages can be sent to individual attendees or broadcast to the entire registration list for:
Urgent announcements
Schedule updates
Educational content
Event reminders
Sponsorship messages
Post-meeting communications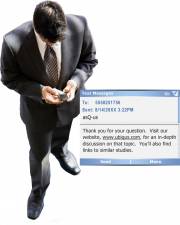 Text Message (SMS) Polling:
Much like a traditional audience response system, [asQ-us] enables users to vote on live meeting content. Using text messages (SMS) sent from mobile phones, participants interact real-time with presenters. Simplified polling applications can be:
Integrated into PowerPoint presentations
Expanded for use outside the meeting room
Accessed by all mobile phone platforms and carriers
Customized to client specifications
Combined with Q&A and Broadcast messaging to create a truly interactive learning environment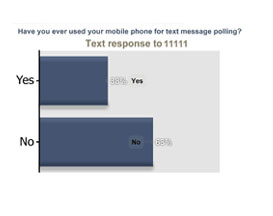 If you are interested in learning more about Ubiqus' Mobile Phone Polling, you can
request a copy
of our brochure by email.
Contact us
for more information about
[
as
Q
-us
]
Group Text Messaging Service.
Need a Mobile Voting Solution?
Contact us and one of our account managers will assist you in finding the mobile voting/SMS solution that meets your needs and budget.

Ubiqus makes the process user-friendly and problem-free.