Mobile Voting & SMS Conference Texting
Software for Mobile Participation & Conference Text Messaging
Participant Messaging:
With [asQ-us] mobile voting software, meeting participants use their mobile phone's text messaging service (SMS) to submit detailed questions or comments to a centrally-monitored computer. The immediate feedback can be:
Included in live Q & A sessions
Incorporated into Audience Response System
Organized & displayed to a moderator/audience
Answered individually or as a group
Accumulated as open-ended survey feedback
Used as on-demand requests for information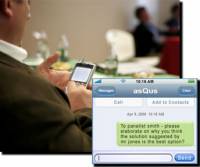 Text Message (SMS) Polling:
Much like a traditional audience response system, [asQ-us] enables users to vote on live meeting content. Using text messages (SMS) sent from mobile phones, participants interact real-time with presenters. Simplified polling applications can be:
Integrated into PowerPoint presentations
Expanded for use outside the meeting room
Accessed by all mobile phone platforms and carriers
Customized to client specifications
Combined with Q&A and Broadcast messaging to create a truly interactive learning environment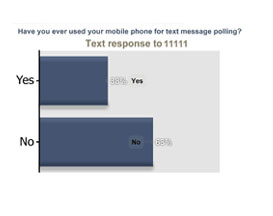 If you are interested in learning more about Ubiqus' Mobile Phone Polling, you can
request a copy
of our brochure by email.
Contact us
for more information about
[
as
Q
-us
]
Group Text Messaging Service.
Need a Mobile Voting Solution?
Contact us and one of our account managers will assist you in finding the right mobile voting/SMS solution for your needs and budget.

Ubievent makes the process user-friendly and problem-free.