Ubiqus is  the 4th largest professional language service provider in Western Europe. Ubiqus UK operates as a subsidiarity of  the larger entity Ubiqus Group. As a multinational organisation with offices across the globe, we focus on delivering quality, reliable and responsive language services. See below a full summary of the Ubiqus Profile.

In Numbers
Experience providing language services

In History

Client Satisfaction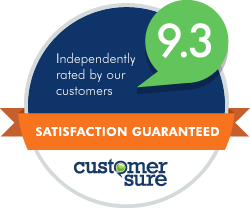 Customer Sure are an independent third party who work with Ubiqus UK as a whole to evaluate our client satisfaction. Consequently Ubiqus sends out monthly satisfaction survey to recent clients. Indeed,  it is important to ensure that we respond to client feedback and suggestions to maintain reliable, high quality and responsive services.

Around the World
Ubiqus Group operates at a global level with offices all over the world ensuring our services are available to all. Locations in major cities include:
London
Paris
Madrid
Brussels
Ireland
Los Angeles
New York
Montreal
Ottawa

Internal Processes & Associations
| | |
| --- | --- |
| In 2008, Ubiqus UK was awarded the ISO 9001:2008 certification | Ubiqus is committed to reducing it's environmental impact as well as spreading good practice. |
| Selected by Bosch and the global Congress Rental Network (CRN), as the sole representative of the CRN in the UK. | A member of the Association of Translation Companies (ATC), one of the oldest professional groups representing the interests of translation companies in the world. |
[/one_fourth]

profile of clients
Ubiqus provides services to numerous business and organisation from various industries including:
Institute of Chartered Accountants (ICAEW)
Linklaters
Glasgow Taxi
The Institution of Engineering and Technology (IET)
The NEC Conference Centre
Toshiba Air Conditioning 
Wandsworth Borough Council 
HM Revenue & Customs 
British Medical Association

Contact us
Ubiqus UK Headquarters
291-299 Borough High Street
London
SE1 1JG
t: 020 7269 0370
f: 020 7405 9884
e: infouk@ubiqus.com
DX: 149165 Southwark 9
Our Warehouse
Building 137
Clocktower Road
Clocktower Industrial Estate
Isleworth   TW7 6DT