ARS Services & Our Process – How It's Done!
Improving Engagement in Focus Groups, Classrooms, Meetings, & Every Event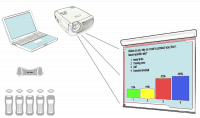 Ubiqus starts by asking the right questions – each event is different and requires a personalized approach. Our senior consultants work with event producers to identify meeting objectives and create interactive content to achieve those goals. In-house editorial staff proof questions for clarity, substance, grammar, and efficiency – we make sure each interaction is optimized for the desired outcome.
On-site, your dedicated ARS technician will handle everything – setting up and testing the equipment, providing slide reviews and rehearsals with presenters, customizing, editing and printing final versions of questions, and running the show. All Ubiqus ARS technicians have a minimum of five years of experience and are always prepared for the unexpected.
At the conclusion of the meeting, your technician will assemble and deliver all reports, tailored to your specifications; as raw data in Excel, sharable PowerPoint presentation, locked PDF documents, and formatted HTML for posting online.
Management Meetings
Advisory Boards
Medical Education (CME)
Sales Training
Focus Groups
Satisfaction Surveys
Game Shows
Entertainment Events
Product Launches
Town Hall Meetings
Elections
Team Building Exercises
Incentive Events
Brainstorming Sessions
Your creative idea here!