Audience Response Systems & Interactive Services
Audience response systems have long been considered among the most effective and engaging tools to gather audience data in real time and increase audience participation. These consensus voting systems and services have been around for many years, but have recently become affordable enough for widespread use in meetings, focus groups, training sessions, and other live events.
While wireless voting keypads and polling software have become more powerful, portable, and reliable through the years, the true benefit of these audience response systems comes from the experience of the service provider and the technical expertise of the on-site audience response technician.
Why Use Audience Response Keypads from Ubiqus?
Ubiqus consultants are experts at providing the right audience response technology to match the goals of your event. From the most sophisticated audience response keypads available today to virtual polling applications, Ubiqus has the right solution for your budget and level of expertise.
Our consultants have decades of experience and our of technicians are specially trained, having logged thousands of successful events utilizing audience response keypads and mobile phone polling applications.
From a focus group of 15 people to a symposium of over 2000, we have the equipment, technicians, and consulting expertise to make your event an overwhelming success. (We even supply the Reply Plus Audience Response System: the most powerful technology and software available in the audience response industry today. Ubiqus owns the largest stock of Reply Plus keypads in the country, available for rent and purchase. Learn more about the exciting new features of the Reply Plus Audience Response System.)
Click on a device above for more information.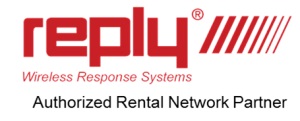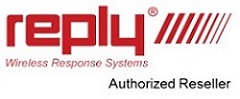 Conferences of all sizes: Ubiqus' audience response systems are great for conferences of all sizes across a number of industries to include healthcare, entertainment, marketing, corporate, and government. The software integrates easily with PowerPoint and results reports are provided at the end of your event.


Public addresses & meetings: City and county representatives, and public figures of all walks have chosen Ubiqus' voting systems to collect the opinions of their constituents.

AGMs: Accuracy is always key and it's one of the things our clients rely on us for. Our ARS technicians ensure that your data is captured in real time and accurately. Results from data collected can be displayed immediately before the audience, or when the session has ended.

Trainings: Trainers and human resource professionals rely on ARS systems to boost concentration and improve test comprehension.

Employee gatherings & surveys: Audience response systems are a reliable and confidential way to instantly collect valuable insights and feedback from employees during conferences, sales and board meetings, and even during team-building exercises.

… And more! Our audience response systems have served the needs of organizations nationwide, for hundreds of data collection needs. Speak to one of our representatives about how an ARS solution can be of benefit to you.
Need an Audience Response Solution?
Ubiqus makes the process user-friendly and problem-free. Contact us and one of our account managers will assist you in finding the audience response solution that meets your needs and budget.