Reply Ativa Keypad
The Reply® Ativa keypad and Ubiqus software package are the most powerful, reliable, and trusted technologies available today. The updated keypad features a fully dynamic color touch screen. Expanded capabilities include a virtual QWERTY keyboard, SMS text messaging, customizable viewing space, smartcard programming, self-paced testing and advanced Q&A management.
If you are interested in learning more about Ubiqus' Reply Ativa keypads, you can request your copy of our brochure by email.
How it works:
Audience members respond to questions and statements posed by the presenter using sophisticated yet simple-to-use reply plus wireless keypads. Each audience response is captured, recorded, and immediately displayed in a variety of graphical formats. Responses can be anonymous or tracked by individual, demographic group, or team.
All our audience response software is professional grade with no pop-up or dialogue boxes intruding on the presentation. We can seamlessly accommodate on-the-fly (impromptu) questions and unplanned demographic filtering. Powerful enough to re-ask, reorganize, reset, and summarize voting questions with only a key press.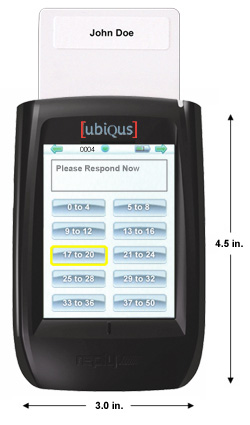 Advanced hardware features include:
65,000 color 3.2 inch QVGA back lighted LCD
Touch screen input via finger or stylus
Virtual QWERTY keyboard
Smart-card reader
SMS text entry of up to 140 characters
Dynamic display area – adapts to content type
Customizable display area
2.4 GHz radio frequency with signal avoidance – guaranteed no interference
Rechargeable batteries – up to 16 hours typical usage
USB port connectivity
Advanced visual vote transmission acknowledgement
Multiple-choice selections (choose more than one answer with visual confirmation of selections)
Advanced log-in for vote tracking and attendance taking
Up to 30 simultaneous sessions can run in close proximity
Visible status icons including battery life, message waiting, reception level and settings
Speed scoring with accuracy to .05 seconds
License-free / license-exempt frequency means the keypads are approved for use worldwide
Advanced software features include:
Smartcard reader for security, identification, and vote tracking
Advanced response input: Multi-digit, multiple selection, text response, moment-to-moment slider, priority voting
Self-paced testing capable
Customizable logos, colors, backgrounds and buttons
Advanced Q&A session support through text messaging
Send messages to individual keypads, multiple keypads, or the entire universe of keypads
Visual vote confirmation and data reporting
Create instant polls from SMS messages
Organize and archive free-form feedback from audience
Demographic filtering and Individual vote tracking
Side-by-side comparison of collected data
Competitions and game shows with advanced scoring capabilities
Display a "call-on-me" list to handle audience questions
Detailed reporting capabilities
Back to All Voting Keypads