Reply Plus Mini Keypad
The Reply Plus Mini® system is a high-functioning, wearable, smaller than a credit card keypad with advanced functionality. Multi-digit and network capable. 10 usable response buttons. Increased capacity.
If you are interested in learning more about Ubiqus' Reply Plus Mini keypads, you can request a copy of our brochure by email.
How it works:
Audience members respond to questions and statements posed by the presenter using sophisticated yet simple-to-use reply plus wireless keypads. Each audience response is captured, recorded, and immediately displayed in a variety of graphical formats. Responses can be anonymous or tracked by individual, demographic group, or team.
All our audience response software is professional grade with no pop-up or dialogue boxes intruding on the presentation. We can seamlessly accommodate on-the-fly (impromptu) questions and unplanned demographic filtering. Powerful enough to re-ask, reorganize, reset, and summarize voting questions with only a key press.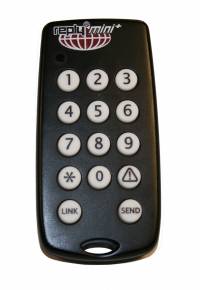 Advanced hardware features include:
2.4 GHz radio frequency (RF) with signal avoidance
Multi-color LED for user feedback and vote confirmation
14 elastomeric buttons
Multiple-digit entry for sophisticated data collection
Advanced visual vote transmission acknowledgement
Multiple-choice selections
Advanced log-in for vote tracking and attendance taking
Up to 31 simultaneous sessions can run in close proximity
Breakout room feature allows users to move from room to room using the same keypad without interference
Speed scoring with accuracy to .05 seconds
License-free / license-exempt frequency means the keypads are approved for use worldwide
Deep sleep mode (no on/off button)
Long-life lithium coin cell battery ~ 20,000 responses
Lanyard connectable
Ultra portable
Advanced software features include:
PowerPoint compatible
Questions may now have up to 30 choices (up from 10)
Accommodates weighted voting
Prioritize lists of up to 99 items
Individual vote tracking
Demographic filtering
Side-by-side comparison of collected data
Competitions and game shows with advanced scoring capabilities
Speed scoring
Advanced strategic planning functionality with X-Y opportunity maps
Detailed reporting capabilities
Display a "call-on-me" list to handle audience questions
Back to All Voting Keypads